David Hockney and Damien Hirst go head to head with solo London shows
Hockney makes dig at Hirst's use of assistants in notes for Royal Academy exhibition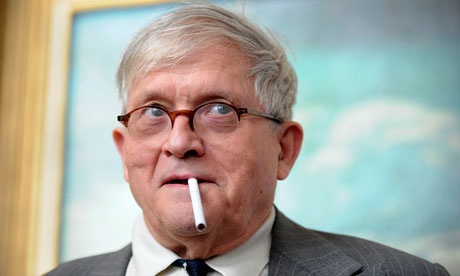 http://www.guardian.co.uk/artanddesign/2012/jan/03/david-hockney-damien-hirst-rival-exhibitions
"Hockney, who at 74 is creating enormous landscape paintings based on the fields and woods of his native Yorkshire, agreed that he had Hirst in his sights, adding a criticism of art schools.
"It's a little insulting to craftsmen," he said. "I used to point out, at art school you can teach the craft; it's the poetry you can't teach. But now they try to teach the poetry and not the craft." He quoted a Chinese proverb that to be a painter "you need the eye, the hand and the heart. Two won't do."
The Hirst show will include pieces made by assistants including the taxidermists who worked on the famous pickled shark – The Physical Impossibility of Death in the Mind of Someone Living – and the cow and calf, Mother and Child Divided.
Hirst once said he employed assistants to make works such as his scores of spot paintings because "I couldn't be fucking arsed doing it"."
This is interesting considering the recent dig Hockney has received about his own craftsmanship from a former teacher:
http://www.dailymail.co.uk/news/article-2090107/David-Hockney-exhibition-Former-art-teacher-attacks-new-works-rubbish.html
"I'm sorry to say that what David does now is rubbish. David has become, well, more of a decorator with those bright colours.'
It seems that his former teacher would have preferred a more subdued color palette which he aligns with Cezanne.
"'If you do landscapes, look at how Cezanne did them and his subdued colours."
Does his teachers dig resonate? Why? Why would subdued colors be more appropriate for landscapes? For me, the dig triggered Taussig's work on western "chromaphobia".
one of Hockney's newer works
Cezanne